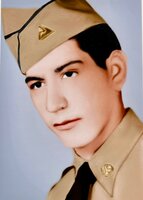 Albert J. Garcia
Albert Joseph Garcia
Al passed on 3/2/23 due to Covid complications to some existing health issues. Al was born in Philadelphia and spent much of his life supporting "Philly" sports teams and living in the South Jersey area. Al is survived by his brother Oscar and his stepson Carl Applebaum.
Al served us and our country in the Korean Conflict where he earned many citations and commendations including the Purple Heart and Bronze Star.
Al was always busy and right up to his unfortunate passing. He had many jobs following Korea but since 2003, he cherished his time at Manheim Auto. There, he established strong relationships with many fellow drivers that truly enriched his "retirement years". He also then found his last and true love of his life, Gerry. They were married for 21 years. She and Al enjoyed many trips to the Jersey shore and Virginia. Both loved the beach. They also shared many good times socializing with a core group of neighbors and enjoyed good food and a cocktail or two, maybe three.
Al lived an active lifestyle right to his final days. He will be missed by many and a "celebration of life" will be arranged in the upcoming weeks. Both Gerry and Al will be laid to rest at Washington Crossing National Cemetery in Pennsylvania