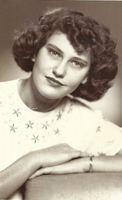 Joy H. Dodimead
Joy Hazel McKelvie Dodimead
Joy Dodimead, a Registered Nurse of Willingboro, NJ, died Wednesday, February 15, 2023 at Cambridge Rehabilitation & Healthcare Center, Moorestown.
She was the beloved wife of the late Roger for sixty-two years. Her sister, June Shelton, predeceased her. Joy was survived by her daughter and son-in-law: Susan (Robert) Hill, four sons and three daughter in-laws: Stephen (Gwendolyn) Dodimead, Peter (Jesusa) Dodimead, James (Nancy) Dodimead, Mark (Dawn) Dodimead. Eleven grandchildren: Dominic, Dominia, Donald, Jennifer, David, Charles, Kevin, Jason, Benjamin, Andrew, Kyle. Ten great grandchildren: Dominic Jr., Damien, Donovan, Quinn, Ryan, Avery, Micah, Nicolas, Michael, Cora, Nicolas, Michael. Sister: Jane Franks, and sister in-law: Lois Liversidge, and a host of nieces, nephews, other relatives, and friends.
Joy adored her family and friends. She was a devoted Christian, and was a member of Beverly Presbyterian Church for over 50 years. Joy cherished her monthly meetings with the Presbyterian Women's Group. Joy was an avid knitter and piano player. The neighborhood kids flocked to Holiday Lane to eat Joy's scrumptious chocolate chip cookies. Joy's priorities were always her faith and her family.
Funeral Services will be held Tuesday, February 21, 2023, 10 am at the Beverly Presbyterian Church, 121 Warren Street East, Edgewater Park,NJ. (609)387-1117. Relatives and friends are invited to her viewing, Monday, February 20,2023, 6pm – 8pm at the Goes – Scolieri Funeral Home, 212 Veterans Parkway, Willingboro,NJ. (609)871-1000. Interment : Monument Cemetery, Beverly,NJ.
In Lieu of flowers, please donate to your choice of charity in her name.
To leave a condolence, share a memory, post a photo and more, please visit the funeral home's website : www.goesscolierifuneralhome.com.