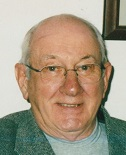 Robert Gilmore
Robert Joseph Gilmore (98) passed away peacefully in his sleep in the early morning of October 2, 2022. Robert's passing was exactly two years to the date after the passing of his beloved wife, Marie Gilmore. The two were married for 70 years and devoted their life to home, church, and family.
Robert is survived by his daughter Susan and her husband Rich Wilczewski; his grandchildren Kathleen Morales, Christopher Wilczewski, and Brian Wilczewski, their spouses Paul Morales and Rachel Wilczewski and his great-grandchildren; Mckinley and Theodore Robert Henry Morales, and Madelynn and Thomas Wilczewski.
Robert, or Bob, as his friends knew him, was born August 26, 1924, to Joseph and Regina Gilmore. Bob grew up in East Camden, New Jersey, and had a difficult early life. At a young age, he developed scarlet fever. The illness cost Bob the hearing in his right ear and almost his life. Miraculously he was able to make a full recovery, but his early struggles did not stop there. A few years later, he was struck by a car while riding his bike. The incident led to several complications, and doctors did not believe Bob would live longer than 10 years after the accident. Doctors told Bob he would never work, drive a car, or get married. Bob defied all odds and lived a long healthy life up to the day he died.
Bob started his career on the railroad but quickly discovered his true passion was printing. After a short stay with the railroad, Bob found career success in the printing industry. He was the plant supervisor for Alpha & Graphic Arts Litho Houses for 40 years. Printing was only one of Bob's many skills. On weekends, Bob could be found gardening, building furniture, and taking pictures of his family.
In 1950, Bob married the love of his life, Marie Bailey. Four years later, the two welcomed their only daughter, Susan, into their Camden family home. After five years, the family relocated to Willingboro, New Jersey, where they have lived since. Bob was a dedicated family man who took a strong interest in his daughter's life. He was always there for anything his family needed.
When Bob wasn't working, or with his family, he dedicated his time to serving others. Bob was known for helping stranded motorists on the road or throwing on an altar uniform to help the priest when the altar boy didn't show. Formally, Bob served as the Vice President of the Copus Christi Holy Name Society and Treasurer of the Saint Vincent de Paul Society. Additionally, he was a third-degree member of the Knights of Columbus.
Bob spent much of his sixties taking care of his three grandchildren during the day. They fondly remember trips to Ocean City, fun car rides, and walks to get pretzels. His spirit lives on through his family. He will always be remembered as a kind and loving father, a super fun grandad, and adoring pop pop.
He will be missed dearly by all who knew him. Bob was not afraid of death, he knew he was going to heaven, and we will all meet again someday. Until we meet again, he will live on in all our hearts.
Liturgy of Christian Burial will be celebrated, Friday, October 7, 2022, 10:30am at the Corpus Christi R.C. Church, 11 South Sunset Road, Willingboro, NJ. Relatives and friends are invited to attend his viewing, Friday morning, 9am – 10:30am at the Goes – Scolieri Funeral Home, 212 Levitt Parkway, Willingboro, NJ. (609)871-1000. Interment : Lakeview Memorial Park, Cinnaminson,NJ.
In Lieu of Flowers: donations are requested to the St. Vincent de Paul Society, C/O : Corpus Christi Church, 63 Sylvan Lane, Willingboro,NJ,08046 in his memory.