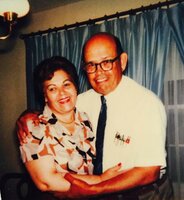 Ashraf Garcia
Ashraf Garcia, of Willingboro, New Jersey, passed gracefully in her sleep on May 21, 2022. She was 94 years old.
Ashraf worked for many years as a nurse before moving to America. She is predeceased by her loving husband, Steven Claude Garcia, whom she met while he worked for Philco-Ford in the late 1960's. Their joyous marriage spanned 37 years.
Ashraf is survived by her four children, Steven Reza, Farokh, Farah, and Fariba; her younger sister, Homa; her six grandchildren, and many adoring cousins, nieces, nephews, and their children. May you rest in the arms of the Eternal Almighty, our sweet Ashie-jon.
Relatives and friends will meet Saturday, May 28, 2022, 10:30am in the Goes - Scolieri Funeral Home Parking Lot to proceed to Sacred Heart Cemtery, Marne Highway, Mt.Holly, NJ, for her interment.