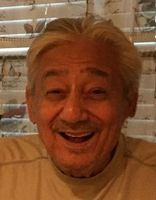 Robert M. Andalis
Robert "Bobby" Andalis
Robert "Bobby" Andalis, 80, passed away peacefully on February 10, 2022.
Robert was born on November 3, 1941, in Philadelphia, PA, to Albert and Louise Andalis. A proud Military Veteran. He was happily retired andlived the last few years in Westampton, NJ. Where he got to know the entire neighborhood.
He is survived by his Sister Linda Andalis Vicente. Daughters Antoinette Andalis-Vera (Jeffrey) and Victoria Andalis Hanson; his Grandchildren Jeffrey Vera, Jr. (Karen), Tiffany Gares, Robert Vera, William Hanson Jr., Finn Hanson; his great-grandchildren Jaylyn Vera, Lyla Vera, Delton Vera, and many nieces and nephews.
Robert was predeceased in death by his parents Albert and Louise Andalis; Son Frank Gares; Son-in-law William Hanson, Sr; Brothers Albert Jr, Richard and Leonard Andalis; Sister Anita Andalis-D'Ambrosio.
Robert was a force of nature, determined to provide for his family and give them the life he felt they deserved. His family meant more to him than anything else in the world, something he often mentioned.
There will be a viewing/celebration of life for family and friends ,Tuesday, February 15, 2022, 10am-11am at the Goes – Scolieri Funeral Home,212 Levitt Parkway, Willingboro,NJ. (609)871-1000. Interment will be private and at the convenience of his family.