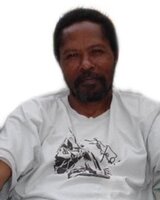 Harold Mitchell
Harold Mitchell
Harold was born in Norton,Va on March 25, 1958.
The oldest child of Barbara Mitchell and Harold Mitchell Sr. He was a quiet soul who was a huge sports fan and an avid music lover.
Harold departed this life on December 30, 2021.
He is survived by his Mother, Barbara, his brothers Phillip and Douglas, his son Rashaad, 5 grandchildren, a host of uncles, cousins, other family members and old friends.
Please keep him in your prayers.
He will be missed but his memory will live on...