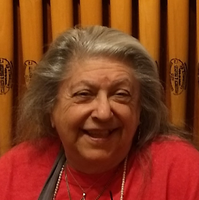 Victoria B Fisher
Victoria B. Fisher
Victoria B. Fisher of Willingboro , NJ 08046 passed away on 2/24/2021 at the age of 85.
Funeral services will be held privately with Father John Shimchick of The Orthodox Church of the Holy Cross officiating. Burial will follow at Brigadier General William C Doyle cemetery where she will be interred with her late husband Walter R. Fisher. Visitation will be held privately at the funeral home.
Victoria was born in Norwood, MA to Howard and Victoria Elias.
Victoria was a long time civil servant and retired from Ft. Dix, NJ. In her later years she was the owner and president of her own company. She enjoyed puzzles, video poker, bingo and spending time with her friends. She was a retired member of the USCG Auxiliary. Additionally, she was a member of NARFE, Delaware Valley 56'rs, and the October Gang.
Victoria is survived by her daughters Nancyanne (Stuart), Cynthia (Steffan), Susan (Gary) her son Thomas, her grandchildren Christian (Ruby), Jonathan, Kristel (Thomas), Alexandra (Jordan), Danielle (Arrian), her great grandchildren Krystle, Cody, Kalel, Cory, Caden, Jaden and many close relatives and friends.
She was predeceased by her parents and her grandchildren Ryan and Faith.
Memorial donations may be made to The Orthodox Church of the Holy Cross, P.O. Box 805 Medford, NJ 08055 or to St. George Orthodox Church, 6 Atwood Avenue, Norwood, MA, 02062.