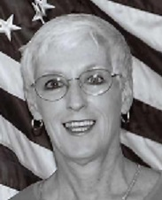 Marie A. Annese
On Saturday, August 22, 2020, Marie A. Annese, loving mother of three sons and grandmother of four beautiful grandchildren, passed away at the age of 78. She passed peacefully with her sons by her side. Marie was born in Brooklyn, NY and resided in Willingboro, NJ for the past 52 years.
She is the widow of the late Gerard C. Annese and predeceased by her parents Patrick and Bridgett McGann and her brothers, Reverend Thomas McGann and John McGann.
Marie has three surviving children, James Annese (significant other, Beth Clemens), Christoper Annese (daughter –in-law, Laure Annese), and Robert Annese. She is also survived by her four grandchildren: Alison, Katie, Sean, and Emma, her dear sister Eileen Wilson and brother-in-law Thomas Wilson.
Marie served the Township of Willingboro for 30 years and ended her career as the Township Clerk. In her free time, Marie enjoyed Irish dancing, reading a good mystery book, and spending time with her family and friends. She was a faithful member of the Corpus Christi church and The Sons and Daughters of Erin, Mercer County,NJ.
Liturgy of Christian Burial will be celebrated Thursday, August 27th, 10:00 AM-11:00 am at the Corpus Christi RC Church, 11 South Sunset Road, Willingboro, NJ. Relatives and friends please meet directly at church. Interment: Laurel Hill Cemetery, Burlington, NJ.
In lieu of flowers, memorial donations may be made to the Catholic Charities, 801 Burlington Ave, Delanco, NJ, 08075 or Corpus Christi R.C. Church, 63 Sylvan La., Willingboro, NJ 08046 in her memory.