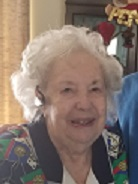 Olive H. Warne
Olive Beatrice Harris Warne departed this life to join the heavenly chorus on Sunday, May 10, 2020. She was born on October 11, 1925 in Southampton England. Her parents Beatrice May and Walter Sidney Harris preceded her in death as well as her sister Margaret Robinson, her husband of over 50 years Walter Gibbons Warne, and son David Warne. Olive spent her younger years in Southampton England until marrying her husband Walter in 1947 and moving to the United States in 1952. Her family moved to Willingboro New Jersey in 1966 and she has been a resident ever since.
When arriving to the United States Olive's story was like many otheryoung women who felt sad about leaving their families yet still excited about the great adventure of moving to America, tied with love for their new servicemen husbands. Motivated originally by homesickness, the women of the British Brides Club became Olive's saving grace. The ladies reached out, placing ads for bi-monthly meetings at which they could share common experiences of being young military brides in a new country, as well as to celebrate their own heritages. Olive befriended many of the ladies and up and to her death remained in contact with some of them and was an active member of the British Brides Club.
Furthermore, Olive also took pride in being a member of the LST 511 servicemen's banquets and reunions where families would reunite and share their military experiences and their love for the military and country.
Olive and her husband Walter also spend many years as members of the Bristol Yacht Club on the Delaware River with their boat where they made several friends who they later considered as family.
Olive was also a long-standing member of the Willingboro Emergency Squad, where she servedin many capacities, including an EMT and dispatcher. She was recognized publicly as being one of the first female EMT's with the Willingboro Squad. She had a passion for helping those less fortunate and those in need.
When Olive wasn't spending her time volunteering or helping others, she would spend time in the kitchen making some of her families favorite dishes to include; Polynesian Chicken and lemon meringue pie. Olive also loved spending time in her pool with family and catching up with family and friends sending letters and cards.
In addition to her granddaughters Kimberly Warne (Tommy) and Lisa Quintana (Luis), Olive leaves behind to mourn are her dearest brother Sidney Harris of as well as her great grandchildren Jared and Jacob Coffman and Taylor ; many nieces and nephews in England especially Teresa Wells (Pete), Elaine Peake (Tim) Steve Robinson (Sue) Linda (Steve) Smith, as well as her dearest nephew Richard (Ricky) Warne and his children, William Warne (Patti) and her niece Kathy (Thomas) Piskorski, and a myriad of other nieces, nephews, friends,neighbors, and family members.
Memorial Services will not be held due to gathering restrictions. Olive will be laid to rest with her late husband Walter at the Beverly National Cemetery in Burlington County New Jersey.