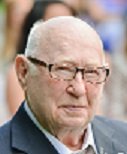 William J. Brown
William J. Brown Obituary
William J. Brown was born on October 25, 1927 in Abington, PA. He is preceded in death by his parents John and Elizabeth Brown and a brother John Brown Jr. and a sister Elizabeth Espenship. He is survived by his wife of 67 years, Wanda M. Brown, a son, William D. Brown of Lewes, Delaware, 8 daughters: Mrs. Donna Mireles of Hillsboro, Oregon, Mrs. Diane Thoms of Cincinnati, Ohio, Mrs. Carol Scheuerer of Florence, NJ, Mrs. Elizabeth Brown of Colchester, Connecticut, Ms. Linda J. Wiles of Lumberton, NJ, Mrs. Kathy McMillan of Medellin, Colombia, SA, Mrs. Margaret Spadaro of Florence, NJ, and Mrs. Debra Magnus of Goldsboro, NC, 25 grandchildren, 26 great grandchildren, and 1 great-great-grandson. He is survived by his sister, Mrs. Pauline Kull of Warminster, PA and numerous nieces and nephews.
Mr. Brown worked for The Curtis Publishing Company before entering the army. He resumed work at Curtis Publishing Company and married Wanda Whittaker whom he had met while stationed in Indiana.
After Curtis closed, he worked for The Atlantic & Pacific Company, deli division until it closed. He then worked for Rhawn Flange till he retired at age 65.
During his working years, he also refereed baseball, softball, football, and wrestling.
He loved his family, the Phillies, the Eagles, western films, model trains, golf, pinochle and the Roman Catholic Church. Services will be private with a memorial mass to be held at a later date.
In lieu of flowers, the family prefers donations be made to Alzheimer's Foundation of America.
Please click on the following link to donate : https://act.alz.org/donate .
To leave a condolence, share a memory, post a photo,and more, please visit funeral home's website : www.goesscolierifuneralhome.com
To leave a condolence, share a memory, post a photo and more, please visit funeral home's website : www.goesscolierifuneralhome.com