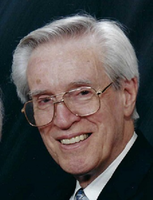 Deacon James E. Ayrer, Jr.
Deacon James E. Ayrer
On February 10, 2020, Deacon Jim Ayrer, 86, went home to be with his Lordand God. The son of James E. and Elizabeth S. Ayrer, he leaves behind the love of his life, Clara M. Ayrer to whom he had been married for 64 years, his children James E.Ayrer III and his wife Karen, Susan Ward and her husband Keith, Kevin Ayrer and his wife Christine, Patty Egley and her husband Teddy, and Sharon Suchora and her husband Ed, along with 10 grandchildren and 7 great grandchildren, Sister and Brother-in-Law: Mary and Jerry Hofmann and Brother-in-Law and Sister-in-Law: Jim and Alice Csogi, other relatives and friends.
Jim's life was motivated by a lifelong love for learning, a belief that it was hisresponsibility to make some kind of contribution to his community, and a dedication to his God.
He had a Bachelor's Degree from St. Joseph's University, a Master's Degree from Fordham University, and a Doctorate from Rutgers University in Measurement and Statistics. For many years he took courses at LaSalle University in Theology.
He worked for the N. J. Department of Civil Service as an Employment Test Developer for 12 years and spent the last 28 years of his working career with The School District of Philadelphia primarily as a consultant in measurement and, in the later years, as Director of Testing, retiring in 1996.
He spent a number of years in service to the community among which was his time in the environmental movement in the 1970's. He served as Chairperson of the Willingboro Environment Commission.
After being soundly defeated in his first attempt at public office – running for Burlington County Freeholder in 1979 – he was elected to the Willingboro Township Council in 1980 and served there for 34 years. He served as Mayor in 1982, 1985, and 1988. During virtually all of those years he served as the Council liaison to the Local Assistance Board – serving as the Chairperson for a number of years - and the Public Communications Committee for which he wrote a bimonthly column entitled "Preserving the Quality of Life in Willingboro".
He was very active in his church, Corpus Christi. He sang in the church choir, served as Chairman of the Men's Club, was a lector at Mass, and was finally called to the Diaconate being ordained in 1992. His special ministries were serving the sick at the hospital and helping people return to the sacraments by validating their marriages and by helping them obtain annulments. Above all, he loved to preach.
Liturgy of Christian Burial will be celebrated Saturday, February 15, 11am at the Corpus Christi R.C. Church, 11 South Sunset Road, Willingboro, NJ. Relatives and friends may call Saturday Morning 9am – 11am at the church. Interment : Lakeview Memorial Park, Cinnaminson,NJ. In Lieu of flowers: donations are requested to Corpus Christi Church, 63 Sylvan Lane,Willingboro,NJ,08046 in his memory.