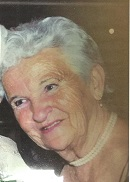 Doris L. Kramer
Doris L. Kramer
January 31, 2020
Doris L. Kramer of Mullica Hill, NJ, died Thursday, January 30, 2020, at Brandywine Living Moorestown Estates, Moorestown. She was 90.
Born and raised in Pottsville, Pa. , she was formerly employed as a Product Surveyor by the Maritz Corporation, Burlington, NJ. She enjoyed ballroom dancing, roller skating and exercising.
Beloved Wife of the Late : Joseph W. Kramer. She is survived by Three Nieces : Gale (Billy) Shaw, Connie Rounds, and Jean Dresel, Nephew : Bud Rosenberger, Great Niece : Sharon Shaw, and a host of other relatives and friends.
Funeral Services and Interment will be private and the convenience of her family.
To leave a condolence, share a memory, post a photo, order flowers, and more, please visit Funeral Home's website.