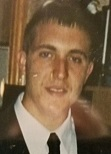 Thomas E. Crawford
Thomas E. Crawford
December 27, 2019
Thomas E. Crawford of Burlington Twp, NJ, died Sunday, December 22, 2019, at home. He was 34.
Born in Mt . Holly , NJ, raised in Burlington Twp., NJ. He was a graduate of Votech High School , Westampton, NJ. He was formerly employed as a warehouseman by H&M, Burlington, NJ. He enjoyed basketball, wrestling, football and gardening.
He will be missed by his grandparents, aunts, uncles, nieces, nephews, cousins and friends.
Son of the Late : James F. and Debra (nee: Dunbar) Crawford. He is survived by his Beloved Grandparents : Virginia and Berry Thomas, Aunts : Angela, Patricia, and Phyllis, Uncle: Darrell, Cousins : Lacey, Charlie,Michael and Amber, Great Nieces : Katelynn and Lola, Great Nephew : Wayne, cousins, friends and coworkers.
Funeral Services and Interment will be private and at the convenience of his family.