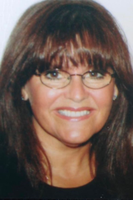 Ruth "Mel" Lisser
Ruth "Mel" Lisser, 69 of Naples, Florida passed away on December 22, 2019 in Bryn Mawr hospital, surrounded by family and loved ones.
Mel was born in New York City, New York on May 22, 1950. She lived 26 years in Marlton, New Jersey with her beloved husband, before retiring to Naples, Florida in 1997.
Her family and friends were the things that she treasured most in life. She was passionately involved with her church and within the community, dedicating a lot of her time to local services. As an active participant with Habitat for Humanity and the Salvation Army, she always worked towards giving back to others. She cared deeply for people who were less fortunate and believed in making the world a brighter place for everyone.
She is the beloved mother of the late Brian Gruman. She is survived by her husband, Harry Lisser; sons, Bill Gruman of Drums, PA and Scott Lisser of Philadelphia, PA; daughter-in-law Jackie Gruman; grandchildren, Joey Gruman, Taylor Gruman and Abby Lisser; sisters, Elizabeth (Tyrone) Bearden, Rosemary (Francisco) Maravilla; nieces and nephews, Adam and Amanda Bearden, Diana, Denise and Marissa Maravilla and Rachel Polis; and sister-in-law's, Miriam Lisser and Marsha (Joe) Greer.
There will be a gathering for family and friends from 10 am to 11 am on Friday, December 27, at the Goes-Scolieri Funeral Home, 212 Levitt Parkway, Willingboro, NJ. (609) 871-1000. A Memorial service will begin at 11 am. For directions, please click on the following link : Goesscolierifuneralhome.com. Entombment, immediately following the service, will be held at Harleigh Cemetery, 1640 Haddon Ave, Camden, NJ.
In lieu of flowers, memorial contributions may be made to St. Jude Children's Research Hospital. Please click on the following link to donate: