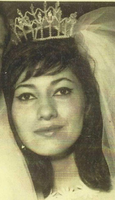 Anna L. Nieves
Anna L. Nieves
December 16, 2019
Anna L. Nieves of Willingboro, NJ died Sunday, December 15, 2019, at Lourdes Hospital, Willingboro. She was 78.
Born and raised in The Bronx, New York. She was a graduate of the Jane Adams High School, The Bronx, New York. She enjoyed reading the Bible and Magazines.
She is survived by her Beloved Husband of Fifty Two Years, George Nieves, Two Sons and One Daughter-in-Law: George (Angela) Nieves, and Roland Nieves, One Grandson : Michael A. Nieves, One Sister : Gloria Strand, other relatives and dear friends.
Funeral Services and Interment will be private and at the convenience of her family.