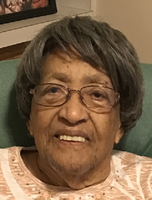 Dorothy M. Johnson
Dorothy M. Johnson
Dorothy M. Johnson (Mouton), of Willingboro, NJ passed away on December 9, 2019. She was 89.
Born in Lafayette, LA, on February 8, 1930, Dorothy was the beloved daughter of the late Antoine and Agnes Mouton, and elder sister to Lawrence "Brother" Mouton (deceased) and his wife Lou.
Dorothy is survived by her devoted husband of 64 years, Theodore Sr. (Ted). She also is survived by six loving children Dominic (Gwendolyn), Agatha Sample (Alfonzo), Patrick (Joyce), Gerald, Anita Fellenz (Terrance), and Theodore Jr. (Sherry), as well as 11 grandchildren and 2 great-grandchildren.
Dorothy was an exceptional student and graduated from high school at the age of 16. A longtime nurse, Dorothy earned her cap at an early age from St. Monica's School of Nursing in Phoenix, Arizona. She experienced many exciting opportunities with poise and courage, including helping integrate a racially segregated maternity ward in a California hospital in the early 1950s, and also participating in an early open heart surgery with pioneer surgeon Dr. Michael E. DeBakke. She and Ted married in June 1955; as Ted was career Army for 24 years, the family made their home both near and far, including Georgia, Arizona, and France (Poitiers and Verdun) before permanently settling in Willingboro in 1966. Dorothy spoke Creole which helped greatly while living in France. A homemaker while the children were growing, she returned to her love of nursing in the late 1970's, first working at Burlington County Memorial Hospital then finally becoming a longtime school nurse at W.R. James (Pennypacker) School in Willingboro until her retirement in 2015. She greatly enjoyed life with Ted and her children, and always found time to bake cakes for others, crochet, garden, and spoil her grandchildren. She will be greatly missed.
To celebrate a life well-lived, please join us for a viewing and mass of Christian burial on Saturday, December 14. The viewing 9:00 – 10:00 am at Goes-Scolieri Funeral Home (212 Levitt Pkwy, Willingboro), immediately followed by a funeral mass at 10:30 am at Corpus Christi Church (11 South Sunset Rd, Willingboro); Entombment will follow at Lakeview Memorial Park in Cinnaminson, NJ. In lieu of flowers, please consider making a donation in Dorothy's memory to Catholic Charities. Please click on the following link to donate : https://www.catholiccharitiestrenton.org.