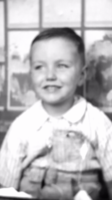 Edward J. Garella
Edward Joseph "Butch" Garella, 75, of Willingboro, passed away on November 11, 2019, at Virtua Memorial Hospital in Mt. Holly after becoming ill earlier this year. His loving family was by his side.
Edward was born on November 24, 1943, in Paterson, New Jersey, to Alice and Edward Garella. Affectionately called "Butch" by his family and childhood friends, he showed an early love of animals and the outdoors. He graduated from Fair Lawn High School in Fair Lawn, New Jersey in 1961. The following September, he began his enlistment in the United States Air Force, where he served for four years as a Crash Rescue Crew Chief in Spandahlem, Germany.
Despite his father being a construction tradesman, Ed did not express his gift for mechanics, building, and repairs until his twenties. Upon being honorably discharged, he returned home and worked in trade jobs over the years where he was able to utilize his mechanical talents. In 1968 he began work as a technical representative for Simplex Time Recorder Company, and advanced to a service manager where he remained until his retirement after thirty-five years with the company.
Ed married his high-school sweetheart, Graceann Tufano, in 1967, and in 1973 started a family with the birth of his daughter, Lisa, and son, Thomas, in 1975. In 1977 he moved his family to the town of Willingboro, New Jersey, where he resided for forty-two years until his death. Ed poured innumerable hours of work into maintaining and improving his home throughout the many years there. He could usually be found by his family and friends working on a home improvement project, woodworking, or repairing something in his garage, which became his workshop. He was extremely generous with using his talents to help his family and friends repair and build just about anything, from cars to furniture.
Throughout his life, Ed also enjoyed fishing, archery, and spending time with his family and friends. His other interests included reading history books and watching the History Channel. He will be forever missed.
He was preceded in death by his parents, Edward and Alice Garella, his sister, Alice Conklin, and his nieces, Georgette Stovall and Tina Gibson.
He is remembered with love by his devoted wife of fifty-two years, Graceann, his children, Lisa (Michael), son, Thomas (Timitra), sister, Ethel Gibson (Glenn), brothers in law, George Conklin and Thomas Tufano (Katherine), grandchildren, Donte' (Rebecca), Marisa, Giana, Sofia, Thaddeus, great-grandchildren, Axton and Armani, many cousins, and his beloved extended family, Howard and Susan Saunders, Laura Curiale, Wendy Saunders, Elizabeth Gimpel, and Jessica Saunders.
Relatives and friends are invited to attend his viewing, Sunday , November 17,2019, 2pm – 4pm at the Goes – Scolieri Funeral Home, 212 Levitt Parkway, Willingboro, NJ. Interment will be private and at the convenience of his family.
Flowers sent in sympathy to the FAMILY HOME are appreciated.
Contributions in Edward's memory in lieu of flowers may be made to the Children's Hospital of Philadelphia, and Habitat for Humanity. Please click on the following links to donate : https://give2.chop.edu/give/241805/#!/donation/checkout?utm source=bottom homepage and https://www.habitat.org .