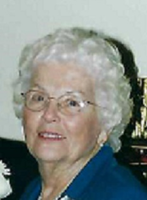 Freda C. Baptista
Freda C. Baptista
Freda C. Baptista, age 93, of Westampton, NJ passed away on Wednesday, September 11, 2019 in her home surrounded by family.
Raised in Pleasantville, NJ, Freda lived in Willingboro, NJ for over 30 years with her husband and children. She was a devoted wife and mother and took great pride in caring for her grandchildren. When Freda wasn't with family, she enjoyed shopping and volunteering her time in the library at Corpus Christi School in Willingboro, NJ, taking bus trips and the casinos.
Predeceased by her sons, Paul Michael Gulli and Dana A. Baptista, Freda is survived by her husband of 67 years, Joseph A. Baptista; daughters, Carol A. Hall, Grace P. Anderson, Cindy E. Baptista, and daughters-in-law, Clara Gulli and Kathleen Baptista; along with nine grandchildren and twelve great-grandchildren.
Relatives and friends are invited to her viewing , Thursday, September 19,2019, 9am – 10am at the Goes – Scolieri Funeral Home, 212 Levitt Pkwy, Willingboro, NJ. Catholic Prayer Service and Interment will follow at the Brig. Gen. Wm. C. Doyle Veteran Memorial Cemetery, Wrightstown, NJ.
In lieu of flowers, the family asks that donations be made in her name to: The Hospice of Moorestown Visiting Nurses, 300 Harper Drive, Moorestown, NJ 08057
To leave a condolence, share a memory, post a photo, order flowers and more, please visit funeral home's website : www.goesscolierifuneralhome.com.