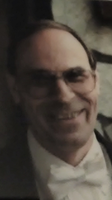 George R. Skertic
George R. Skertic
September 6, 2019
George R. Skertic of Willingboro, NJ, died Thursday, September 5, 2019, at Virtua Rehab Center, Lumberton, NJ He was 83.Born and raised in Bethlehem, Pa. He was formerly employed as a Collection Manager with Commerce Service Corp, Philadelphia, Pa.
He enjoyed playing craps and was and avid sports fan, especially the Philadelphia Phillies. He enjoyed spending time with his family and friends.
Husband of the Late : Gloria L. Skertic. He is survived by his Beloved Wife of thirty years : Loretta G. (nee: Haines), Son and Daughter-in-Law : Jeff and Denise Skertic, Two Daughters : Linda Skertic, Pamela and Frank Schreiber, Brother : Michael Skertic, Sister : Anna Muller, and a host of grandchildren, great grandchildren, nieces, newphews, other relatives and friends.
Funeral Services will be held Thursday, September 12, 2019, 10am at the Goes – Scolieri Funeral Home, 212 Levitt Parkway, Willingboro, NJ. Relatives and friends may call 9am -10am at the funeral Home. Interment : Holy Cross Cemetery, Hamilton Twp., NJ. In lieu of flowers : donations are requested to either : Alzheimer's Association or the Parkinson's Association in his memory.