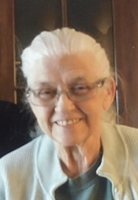 MaryAnne T. Lynch
MaryAnne T. Lynch
September 5, 2019
Mary Anne T. Lynch of Willingboro, NJ, died Wednesday, September 4, 2019, at Lourdes Hospital, Willingboro, NJ. She was 81.
Born and raised in Camden, NJ. She was graduate of Camden Catholic High School Class of 1955. Formerly employed as a secretary by the Philadelphia Bulletin Newspaper and as a Loan Manager by the Sovereign Bank, Pennsauken ,NJ. She was an excellent seamstress who enjoyed sewing and needlepoint, an avid gardener and chef. She taught Devin to cook. MaryAnne and her five sisters all had the same middle name, Anne, and they were known as " The Six Annes ".
She was an active member of St. Cecilia Church, Pennsauken, NJ, where she was a Cantor and Choir Member.
Sister of the Late : Rose Ann Dillenschneider, Mother of the Late : Monica Anaya, and Grandmother of the Late : Devin Lynch.
She is survived by her Beloved Husband of Fifty Eight Years : William J. Lynch, Daughter : Anne Marie Lynch, Son and Daughter-in-Law: Peter and Jacqueline Lynch, Two Grandchildren : Joseph Anaya and Lauren Lynch, Great Granddaughter : Annabelle, Four Sisters : Grace Anne - (Sister Cephes), Cathy Anne Genery, Helen Anne Corre, and Patricia Anne Dillenschneider, other relatives and friends.
Memorial Vistation will be held Thursday, September 12, 2019, 2pm - 3pm at the Goes - Scolieri Funeral Home, 212 Levitt Pkwy, Willingboro,NJ.