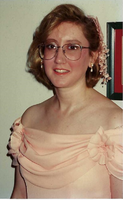 Diane M. Mackintosh
Diane M. Mackintosh, died a sudden death, August 16, 2019 in her apartment in Edgewater Park, NJ.
She was the wife of Earl Mackintosh who died last year.
She lived her whole life in Burlington County. After graduating from Willingboro High School, she then received her Associate Degree in Business Administration from Burlington County Community College.
She lived with a severe illness , but carried on valiantly. Her mother, father and two sisters helped her along the way.
Diane was well liked and will be very very missed.
Liturgy of Christian Burial will be celebrated , Wednesday, August 28, 2019, 10:30am at the Corpus Christi R.C. Church, 11 South Sunset Road, Willingboro, NJ. Relatives and friends please meet directly at church. Interment : will be private and at the convenience of her family.