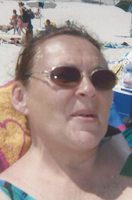 Kathleen Ann Fields
Kathleen Ann Fields
March 31, 2019
Kathleen Ann Fields of Medford ,NJ died Friday, March 29, 2019, at her friend's home , Cherry Hill, NJ. She was 63.
She was born and raised in Long Branch, NJ. Formerly a life long employee in the service industry.She enjoyed the beach and spending time with her family, grandchildren, and friends.
She is survived by Three Children : Keesha A. Fields, Jomo K. (Andrea) Fields, and Less R. Throckmorton, Seven Grandchildren : Tylise Throckmorton, Nazir Throckmorton, Jordan Jones, Nyla Throckmorton, Nolyn Throckmorton, Conscience Fields, and Serenity Fields, One Great Grandchild : Carter l. Johnson, In-Laws : The Robinson Family, Dear Friends : Karen Fiedler, Carolynn Chesney, and her many friends from the Fellowship.
Memorial Funeral Services will be held Saturday, April 6,2019 11am at the Presbyterian Church of Willingboro, 494 Beverly Rancocas Road, Willingboro, NJ, 08046. Relatives and friends may call Saturday morning 9am – 11am at the church.
Funeral Arrangements by : The Goes – Scolieri Funeral Home, 212 Levitt Pkwy, Willingboro, NJ. (609)871-1000. To leave a condolence, share a memory, post a photo and more, please visit the funeral home's website : www.goesscolierifuneralhome.com.