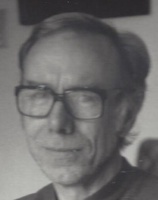 Lester H. Browning
Lester H. Browning
April 4, 2018
Lester H. Browning of Willingboro, NJ, died Monday, April 2, 2018, at home. He was 91. He was born in Detroit, Michigan and raised on a farm in Kentucky. He was a US Navy Veteran of WWII who then served in the US Air Force . He was formerly employed as an Electrical Engineer by the Pacer Systems Inc., Ft. Washington ,Pa.
Beloved Husband of the Late : Elizabeth Browning, Father of the Late : Lisa Browning and Sharon Bergeon.He is survived by one Son : John Browning, Two Grandchildren : Peter and Margaux Bergeon, other relatives and friends.
Funeral Services and Interment will be private and at the convenience of his family.