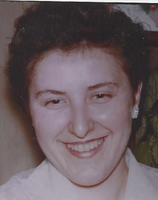 Martha J. Stelzer
Martha J. Stelzer
March 27, 2018
Martha J. Stelzer of Willingboro, NJ, died Monday, March 26, 2018, at home. She was 82. She was born and raised in Mosbach , Germany. She loved animals especially cats, and gardening. Mother of Late : Sandra Ebner.
She is survived by her Beloved Husband of Sixty Two Years : Paul E. Stelzer, Two Sons : Paul M. and Daniel R. Stelzer, Two Daughters : Edith and Iris Stelzer, Three Grandchildren : Keziah and Elizabeth Stelzer, and Donald M. Ebner, Jr., Five Great Grandchildren : Madison and Thomas Pullen, Edward, Natalie and Abigale Lewis, Nephew : George Macomber, other relatives and friends.
Funeral Services and Interment will be private and at the convenience of her family.