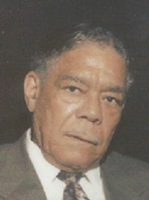 Wallace E. Brown
Wallace E. Brown
March 26, 2018
Wallace E. Brown , of Willingboro,NJ, died Sunday, March 25, 2018, at home. He was 93.
He was born in Plainfield, NJ, and raised in Elizabeth, NJ. He served with the USMC during WWII. He fought in most major campaigns, and he was on the detail that guarded the Atomic Bomb before it was dropped on Hiroshima. He loved fishing and taught everyone how to fish. He was an excellent car mechanic who was very dedicated to his family and church, St. Peters Church, Plainfield, NJ.
He is survived by his Beloved Wife of Seventy One Years : Betty L. (Reveley) Brown, Two Sons and One Daughter-in-Law : Wallace E. Brown,Jr. (Elvira), Arnold E. Brown, One Daughter and Son-in-Law : Shirley Tindal ( Henry A. ) Ten Grandchildren, Fifthteen Great Grandchildren, One Brother : Arnold J. Brown, One Sister : Christine Lane, other relatives and friends.
Funeral Services will be held Saturday, March 31,2018, 10am at the St.Paul United Methodist Church, 201 Levitt Pkwy, Willingboro,NJ. Relatives and friends may call 9am - 10am at the church.. Interment will be private and at the convenience of his family.