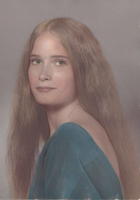 Kathleen A. Auriemma
Kathleen A. Auriemma
March 26, 2018
Kathleen A. Auriemma of Browns Mills, NJ, died Sunday, March 25, 2018, at Lourdes Emergency Room at Deborah Hospital, Browns Mills, NJ. . She was 61.
She liked to read, spend time with her family, pets, puzzles, gardening, the beach, working with children and coffee.
Daughter of the Late : Robert W. and Evelyn McDonald, Sr., Step Daughter of the Late : James A. Kruper, Sister of the Late : Robert W. McDonald, Jr, Sister-in-law of the Late : Teri McDonald, Sister of the Late : Michael P. McDonald, and Aunt of the Late : Dani J. Cummings.
She is survived by : Two Sons and One Daughter-in-Law : Matthew Auriemma, Brian (Carolina) Auriemma, Two Daughters : Kristina Auriemma and Tracie Auriemma, One Brother : Shawn Kruper, Two Sisters and Two Brothers-in-Law : Linda and Frank Loretti, Maureen and James Cummings, Granddaughter : Amaya Cowen, Three Dogs – Beauty,Daisy, and PinaColada, Cat Angel, Former Husband : Robert Auriemma, a host of nieces, nephews, other relatives and friends, former students of Pemberton Township Schools, Boro Kids ,and PAAL Baseball Teams.
Funeral Services and Interemnt will be private and at the convenience of her family. In Lieu of flowers : memorial donations are requested to the family walk to raise money for awareness of Suicide Prevention in Dani J. Cummings' Honor. Donations can be sent by clicking on the following link : https://www.theovernight.org/team/dani