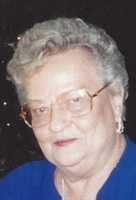 Mary D. Hougardy
Mary D. Hougardy
March 23, 2018
Mary D. Hougardy of Mt. Laure, NJ, died Thursday, March 22, 2018, at Virtua Rehab Center, Berlin, NJ. She was 93.
She was born in Ventnor City, NJ and raised in Atlantic City, NJ. A graduate of Holy Spirit High School, where she was a member of the glee club. Former resident of Willingboro, NJ, and Mt. Laurel, NJ. She was formerly employed as an Office Manager by Thermographic Diagnostic Imaging, Marlton, NJ. She enjoyed ceramics, jigsaw puzzles, talking about politics, the beach, was an ipad pro and especially loved Nelson Eddy and Jeannette MacDonald.
Beloved Wife of the Late : Joseph J. Hougardy , Mother of late : Mary Kay Hougardy.
She is survived by : One Son : Jerry Hougardy , Two Daughters and One Son-in-Law : Terry Hougardy Moore, Connie M. Hougardy – Brown (Eric), Two Grandchildren: Marlana Moore and Nicolas Hougardy, other relatives and friends.
Funeral Services and Interment : will be private and at the convenience of her family.