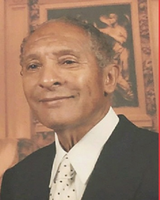 Harry A. Queen
Obituary Harry Queen
Sunrise- October 31, 1931 Sunset-March 7, 2018
Harry Aloysius Queen was born October 31, 1931 to the late Harry F. Queen and Agnes Marie Saulsberry Queen in an ambulance on the Delaware River Bridge en route to Cooper Hospital in Camden, New Jersey.
He was baptized as a Catholic and maintained his devoted faith throughout his life. He received his education in the Cheltenham Public Schools and Graduated from Cheltenham High School. After graduation, he worked for several years until joining the United States Air Force in 1951. He remained in the Air Force for twenty years, served his country admirably, and was honorably discharged in 1971.
On June 4, 1960 while serving in the Air Force in London, England, Harry and Dorothy A. Chang were united in marriage. This loving union was blessed by two wonderful children Wayne and Sharon.
Harry chose a second career after retirement and worked twenty-five more years for the law firm Archer and Greiner in Haddonfield, NJ where he retired in 1996.
On March 7, 2018 the Lord summoned Harry home. He leaves a legacy of love to his devoted wife Dorothy, loving son and daughter Wayne and Sharon, beloved granddaughter Jada and a host of loving relatives and many special friends.
Lovingly submitted,
The Family
Liturgy of Christian Burial will be celebrated Friday, March 16, 2018, 10:30am at the Corpus Christi R. C. Church , 11 South Sunset Road, Willingboro, NJ. Relatives and friends may call Friday Morning, 9am – 10am at the Goes – Scolieri Funeral Home, 212 Levitt Pkwy, Willingboro, NJ. Interment will Full US Air Forces Honors : Brig. Gen. Wm. C. Doyle Veterans Memorial Cemetery, Wrightstown, NJ.