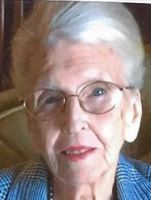 Marie M. Bubenchik
Marie M. Bubenchik
February 18, 2018
Marie M. Bubenchik of Willingboro,NJ, died Thursday, February 15, 2018, at home. She was 92. Born and raised in Philadephia,Pa.She was formerly employed as a cashier in the Men's department by Sears, Burlington , NJ, for over thirty eight years. She loved her children, grandchildren, travel, cats, game shows, Murder She Wrote , and Steve Harvey . Beloved Wife of Late : Jerry Bubenchik , and Mother of the Late : Ralph Bubenchik.
She is survived by : Three Sons : Jerry Bubenchik , Frank Bubenchik , David Bubenchik , Daughter and Son-in-Law : Joyce and Anthony Isch, Four Grandchildren : Corey, Ryan , Ralph , Michelle, Great Granddaughter : Ava, other relatives and friends.
Memorial Visiation will be held Wednesday, February 21, 2018, 10am – 11am at the Goes – Scolieri Funeral Home, 212 Levitt Pkwy, Willingboro, NJ. Interment will be private and at the convenience of her family.