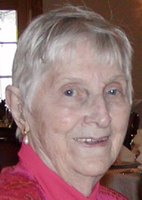 Anna T. Saltzman
Anna T. Saltzman
February 15, 2018
Anna T. Saltzman of Willingboro , NJ died Thursday, February 15, 2018, at home. She was 98.
Born and raised in Philadelphia, Pa.. She worked at Exide Battery Company during WW l l where she met her husband, Harry. They married in 1948 and moved to Willingboro, NJ, in 1961. Together they raised six children. She loved her family, grandchildren , great grandchildren, extended family, the beach ,shore and casinos.
Beloved Wife of the Late : Harry J. Saltzman. Grandmother of the Late : Joseph M. Saltzman .Mother-in-Law of the Late : Edward McLauglin.
She is survived by : Three Sons and Two Daughters-in-Law : Harry and Sandy Saltzman, John Saltzman, William and Debbie Saltzman, Three Daughters and Two Sons-in_law: Sister of Mercy : Anna M. Saltzman, Mary McLauglin, Helen and Tim Johnson, Thirteen Grandchildren, Twelve Great Grandchildren, other relatives and friends.
Liturgy of Christian Burial will be celebrated , Tuesday, February 20,2018, 10:30am at the Corpus Christi R.C. Church, 11 South Sunset Road, Willingboro, NJ. Relatives and Friends may gather Tuesday Morning 9:30am – 10:30am at the church. Interment : Odd Fellows Cemetery, Burlington ,NJ. In Lieu of Flowers: Memorial Donations are requested to the : Sisters of Mercy, 515 Montgomery Ave, Merion Station , PA, 19066, in her name.