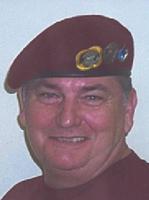 Theo H. Knaak
Theo H. Knaak
February 14, 2018
Theo H. Knaak of Delran, NJ, died Monday, February 12, 2018, at Samaritan Hospice, Mt.Holly, NJ. He was 78.
He was born in Heidelberg, Germany and came to the United States at the age of fifteen. Joined the US Army at the age of nineteen.
He served nine years and was a honorable discharged SSG. Former owner and operator of Industrial Boiler and Chimney Company, Ambler, Pa. Member of the Herman Masonic Lodge for over fifty years, and served eight years on the Delran Township Council.He enjoyed cooking, sailing, skiing and motorcycles. Father of the Late : Nancy Guenther.
He is survived by his Beloved Wife of Sixty Years : Lucille (nee: Leva) Knaak, Son and Daughter-in-law : Fred and Diane Knaak, Daughter and Son-in-Law : Uta and Michael Scheppan, Five Grandchildren: Andrew, Brendon, Christeen (Matt), Rachel (Chardon), Julia (Max), Brother and Sister-in-Law : Roland and Renate Knaak, other relatives and friends.
Memorial Funeral Services will be held : Saturday, February, 17,2018 , 12noon at the Goes – Scolieri Funeral Home,212 Levitt Pkwy, Willingboro, NJ . Relatives and friends may call Saturday Morning 11am to 12 noon at the funeral Home. Interment will be private and at the convenience of his family. In lieu of flowers : Memorial donations are requested to the Samaritan Hospice, 5 Eves Drive – Suite 300, Marlton,NJ,08053 in his memory.