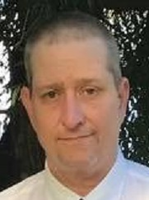 Daniel H. Scoggins
Daniel H. Scoggins
February 9, 2018
Daniel H. Scoggins of Mt. Laurel, NJ, died Thursday, February 8, 2018, at home. He was 49.
He was born and raised in Dallas, Texas. He was an avid Dallas Cowboy fan, enjoyed Formula 1 Racing, all genres of music and playing with his dog, Jodi.
" DOES THAT COME WITH A TV ? "
He is survived by his Beloved Wife of Nine Years : Eileen (Nee: Woodington ) Scoggins, Daughter and Son-in-Law : Alissa and Josh Carr, Grandchildren : Mackenzie Faye Anderson, Callie Dawn Anderson, and Gannon Joshua Carr, His Beloved Fur Baby, Jodi, Father : William Scoggins, Two Brothers : William Scoggins, and Todd Greene, Sister : Susan (Nee: Greene) Hughes, Parents-in-Law: Gary and Karen (nee: Gilley) Woodington , Sister-in-law : Katie (James ) Brady, Niece : Maryjane Woodington – Velez, Nephew : Finnigan, other relatives and friends.
Memorial Visitation will be held : Wednesday, February 14, 2018, 10:30am – 11:30am at the Goes – Scolieri Funeral Home , 212 Levitt Pkwy, Willingboro, NJ. Interment will be private and at the convenience of his Family.