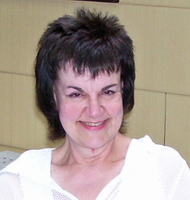 Barbara E. LiVecchi
Barbara E. LiVecchi passed away on January 17, 2018 at the Virtua Memorial Hospital in Mt Holly, NJ at the age of 70.
Barbara was a retiree having worked in the banking industry for more than 40 years. Over that time, she had held positions at Farmers & Mechanics bank, Fidelity bank, First Union National Bank, Wachovia Bank, Wells Fargo, and lastly as a member of the wealth management group at US Trust, Bank of America Wealth Management, Princeton, NJ.
Barbara had been the beloved wife of Louis R. "Bob" LiVecchi for twenty-five years, until his death in 1998. She leaves two beloved sons, Joseph LiVecchi, his wife Tara, and their children Danielle, Robert, and Vincent; son Nicholas LiVecchi and his wife Meri, and their newborn son Niko. She also leaves behind three surviving siblings, including two brothers and a sister, Philip J. MacDonald and his wife Margaret and family, Gerald J. MacDonald and his wife Mary and family, sister Mary M. MacDonald, and numerous nieces, nephews, and cousins.
Barbara was the daughter of a U.S. Army Sergeant Major and through her teenaged years had traveled and lived abroad in Germany, Kansas, Okinawa, and in the U.S. She attended Kubasaki High School in Naha, Okinawa and had graduated from Thomas A. Edison High School, in Elmira Heights, NY. She had resided in New Jersey since 1965.
Liturgy of Christian Burial will be celebrated Saturday, January 20, 2018, 10 am at the Corpus Christi R.C. Church, 11 South Sunset Road, Willingboro, NJ. Relatives and friends may call Saturday Morning 8:30am – 9:30am at the Goes – Scolieri Funeral Home, 212 Levitt Pkwy, Willingboro, NJ. Entombment : Lakeview Memorial Park Mausoleum, Cinnaminson,NJ.