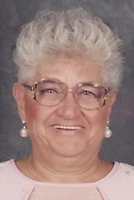 Barbara R. Patterson
Barbara R. Patterson
January 5, 2018
Barbara R. Patterson of Willingboro, NJ, died Wednesday, January 3, 2018, at Samaritan Center At Voorhees, Voorhees, NJ. She was 85.
She was born in Everett, Massachusetts, raised in Chelsea, Massachusetts. She was a proud Bostonian and a passionate fan of all the sports teams, especially the Patriots and Celtics.
She had been a resident of Willingboro since 1966. She worked for the Willingboro school system for over 44 years as a teacher's aid at Bookbinder School and others. She retired in 1998 and then continued on a part-time basis as a bus aid,until recentley. She enjoyed her work and was liked by her coworkers.
Barbara was also an active member in the Fairmount Park Home Owners Association.
She is survived by Two Sons and One Daughter-in-Law: Phillip (Jill) Patterson and Dan Patterson, Four Grandchildren : Andrea, Jennifer, Jaide and Dustin, One Sister : Arlen Feinberg, other relatives and friends.
Funeral Services will be held Monday, January 8,2018, 10:30am at the Goes - Scolieri Funeral Home, 212 Levitt Pkwy, Willingboro,NJ. Relatives and friends may call Monday Morning, 10am - 10:30am at the Funeral Home. Interment : Shalom Memorial Park, Hunting Valley, Pa. In Lieu of flowers : please consider making a memorial contribution to either : Samaritan Hospice https://samaritannj.org/giving/donate-now/ or American Cancer Society in her memory.