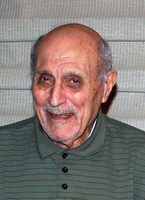 Joseph D. Mastra
Joseph D. Mastra
Willingboro Resident
Joseph D. Mastra of Willingboro passed away peacefully on December 30, 2017. He was 95. Born in Pittsburgh, PA, he was a veteran of World War II with the 819th Tank Destroyer Battalion, deployed in the Western Pacific. He moved with his family to New Jersey in 1961 with the Sears management team and retired after forty years as the Eastern Territory Construction Manager.
Joe was a member of Corpus Christi R.C. Church and one of the first members of its Men's Club. He worked organizing their early carnivals and car raffles. He was a loving husband, devoted father and wonderful grandfather. He believed that family was important and a valuable gift that God had given him. He enjoyed his large extended family and loved being part of frequent gatherings.
He was predeceased by Gloria, his beloved wife of 54 years; his brother, Sam Mastra Jr.; his mother, Theresa Mastra, and father, Sam Mastra Sr. He is survived by his four daughters, Josette Mastra of Colorado; Jackie White (Todd) of Westampton; Janis Dooling (Patrick) of Edgewater Park, and Gail Dignam (Jim) of Mount Laurel. He will also be missed by his grandchildren, Matthew Dooling (Christina née Binnig) Zachary Dooling; Emily, Joseph and Sarah Dignam and great-grandson Noah Dooling. He is also survived by two cousins, Dorothea Campbell of Pittsburgh and Pete Frank of Florida.
Liturgy of Christian Burial will be celebrated Wednesday, January 3, 2018, at 10am at the Corpus Christi R.C. Church,11 South SunsetRoad, Willingboro,NJ. Relatives and friends may call Tuesday evening, January 2, 2018, 7pm - 9pm and Wednesday Morning, January 3,2018, 8:30am - 9:30am at the Goes - Scolieri Funeral Home, 212 Levitt Pkwy, Willingboro,NJ. Entombment : Lakeview Memorial Park Mausoleum, Cinnaminson,NJ
In lieu of flowers, please consider making a memorial contribution to either :
Samaritan Hospice https://samaritannj.org/giving/donate-now/, 175 Madison AveMount Holly, NJ 08060
or
Alzheimer's Association South Jersey Regional Office , 3 Eves Drive, Ste 310, Marlton, NJ 08053
or
Corpus Christi Church11 S Sunset RdWillingboro, NJ 08046, in his memory.