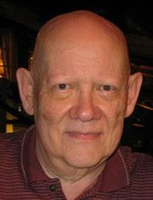 Dale A. Vetter
Dale A. Vetter passed away on Friday, December 22,2017, at the Samaritan Center at Voorhees,NJ, at the age of 79.
Dale was a fee-only financial planning/investment advisor in private practice in Burlington County until his retirement in 2016. This was actually his second retirement since he took early retirement in 1988 after 25 years with Mutual Benefit Life, an insurance company in Newark.
He leaves a beloved wife of 58 years, Arlene (Barnhart) Vetter; son Jeffrey D. Vetter and his wife Anna M. Connelly; son Christopher T. Vetter and his wife Toni A. Vetter. He also leaves behind a sister-in-law Gladys Vetter and numerous nieces, nephews and cousins.
Dale was a military veteran having served in the Army. After fulfilling his initial commitment, he continued to serve his country for an additional 6 years in the Army Reserves before being HonorablyDischarged in 1963.
An advocate of life-long learning, he earned his Master of Science in Financial Services degree from The American College at the age of 57. As an adjunct professor of the college, he taught classes at Camden County College to students seeking entry to the financial services industry.
For over 50 years, he was always involved with professional, charitable and service organizations. Never content to be just a member, he was always learning, teaching and leading. This started in the 1960s with the Newark Jaycees (Jaycee of the year 1966-1967). A partial list includes; The American College (Golden Key Society Role Model Award), Society of Financial Service Professionals (Life and Honorary Member/National Director/Kenneth Black, Jr. Leadership Award) and their local South Jersey Chapter (Past President), Estate and Financial Planning Council of Southern NJ (Past President/Founders' Award for Distinguished Service), Willingboro Rotary Club (Past President, Paul Harris Fellow, Outstanding Service Award, Vocational Award), Rotary District 7500 (Convention Chairman-1997), Rotary District 7500 Gift of Life Foundation (Past Chair, recipient of the Michael's Heart Humanitarian Award). Many of these activities overlapped and do not include a multitude of various other committees on which he served.
Dale had a special love for the fire service. A Life Member of the Willingboro Fire Company (former Fire Commissioner/Lifetime Achievement Award/William A. Schroeder Memorial Award), he spent 32 years as a volunteer answering over 9,000 calls.
Early education also included training as a commercial artist. As an avid photographer, you could always count on Dale to capture and memorialize an event, a dinner or family gathering. His love of Disney World was widely known and when he wasn't talking about a recent trip during the annual Food & Wine or Flower & Garden Festivals, he was likely planning one.
Funeral services are private and will be held at the convenience of the family. A memorial will be held on Friday, January 12, 2018 at Laurel Creek Country Club in Mount Laurel, N.J. with visitation from 9 to 11am and a brief service immediately following. Donations in Dale Vetter's memory can be made to the District 7500 Gift of Life Foundation, c/o Willingboro Rotary Club, P.O. Box 75 Willingboro, N.J. 08046.