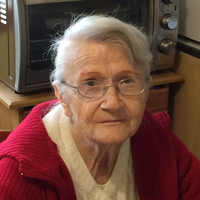 Charlotte G. Friddell
Charlotte G. Friddell
December 6, 2017
Charlotte G. Friddell of Edgewater Park, NJ, died Tuesday, December 5, 2017, at home. She was 86.
She was born in Marlton ,NJ, and raised in Medford, NJ. She graduated from Mt. Holly High School and earned her Nursing Degree from BCIT, Westampton, NJ. She retired from Rancocas Valley Hospital , Willingboro, NJ, after 33 years and the Marcella Center after 8 years as a Licensed Practical Nurse.
She enjoyed : gardening, bus trips to Atlantic City, NJ, with her sister, Lillian, playing with her dog, Lightening, and watching " Lets Make a Deal".
Beloved Wife of the Late : William C. Friddell. She is survived by Two Sons and Two Daughters-in-Law : Rance R. (Carol) Friddell, William C. (Jackie) Friddell III, Two Daughters : Susan LaGambina, and Helen Friddell, Seven Grandchildren, Thirteen Great Grandchildren, Three Sisters : Chrissy, Lillian, and Mary, other relatives and friends.
Funeral Services will be held Saturday, December 9, 2017, at 10am, at the Goes – Scolieri Funeral Home,212 Levitt Pkwy, Willingboro, NJ.Relatives and friends may call Saturday Morning after 9am at the funeral home. Interment : Lakeview Memorial Park, Cinnaminson ,NJ.