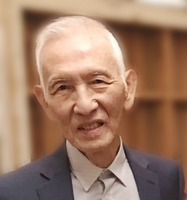 Chien Han
Chien Han
November 20, 2017
Chien Han of Mt. Laurel, NJ, died Friday, November 17, 2017, at Jefferson Cherry Hill Hospital, Cherry Hill ,NJ. He was 80.
He was born in Jiujiang, China. He was formerly employed as a Language Professor at the Beijing Chinese Language and Culture College, Beijing, China. He loved to teach, and was passionate about sports, including volleyball, basketball, tennis and ping pong. He was nominated for a ping pong champ in the Mt.Laurel Senior Center. He was a volleyball athlete through out his younger days, and coached the women's volleyball team at Seton Hall University. He loved kids.
He is survived by his Beloved Wife of Fifty Six Years : Minfang Hsu, One Son : Ruijing Han, One Daughter and Son-in-Law : Rachael and Jim Ong, Two Granddaughters : Ashley and Thea Ong, Two Brothers : Zhe Han, and Wu Han, Two Sisters: Ming Chow and Ying Han, other relatives and friends.
Relatives and friends may call Wednesday Morning, November 22, 2017, 10:30am to 11:30am at the Goes – Scolieri Funeral Home, 212 Levitt Pkwy, Willingboro ,NJ. Interment will be private and at the convenience of the family.