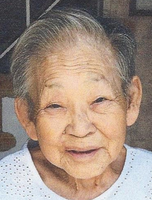 Kinue "Bikki" Dubitsky
Kinue Dubitsky
November 12, 2017
Kinue " Bikki " Dubitsky of Willingboro, NJ, died Thursday, November 9, 2017, at Lourdes Hospital, Willingboro, NJ. She was 87.
Born in Fukuoka, Japan. She was a Devout Buddhist, who was a well respected member of her Budda Sect. She will forever be remembered by her five children, twelve grandchildren , four great grandchildren, and many friends. She is best known by all family and friends as Bikki.
She enjoyed watching the "Eagles" and KC Chiefs football team, 'The Price is Right', social activities (karaoke) with her friends, she was a skilled or "very Lucky" bingo player, welcomed everyone into her home, showed kindness to all, made herself available to anyone in a bind. She enjoyed crochet and reading novels and short stories. She had blind faith in those she loved.
Beloved Wife of the Late : Raymond Dubitsky. She is survived by Five Children : Ruriko Page, Joseph J. Dubitsky, Naomi Britt, David Dubitsky, and Gregory Dubitsky, Twelve Grandchildren, Four Great Grandchildren, One Brother and One Sister, other relatives and friends.
Prayer Meeting will be held , November 19,2017, 1pm, at 11 Montrose Lane, Willingboro,NJ, 08046. All are welcome. Interment will be private and at the convenience of her family.