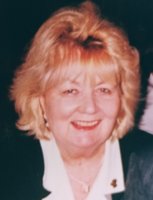 Eileen P. "Snyder" Cannizzaro
Eileen P. Cannizzaro
November 3, 2017
Eileen P. Cannizzaro, of Willingboro, NJ, died Wednesday, November 1, 2017, at home. She was 82.
Born in Philadelphia, Pa., raised in the Philadelphia, Pa. area. She was very close to God, and was an active member of Corpus Christi R.C. Church, Willingboro , NJ. She enjoyed angels, birds , reading ,writing and singing.
Beloved Wife of the Late : Joseph S. Cannizzaro, She is survived by Two Sons and One Daughter-in-Law : Joseph and Karen Cannizzaro, Paul Cannizzaro, Two Daughters and Two Sons-in-Law : Melissa and Ramon Estevez, Ann-Marie and Tom Walls, Seven Grandchildren: Rebecca, Cristina, Jose, Ramon, Benjamin, Alexis and Braden, other relatives and friends.
Liturgy of Christian Burial will be celebrated Thursday, November 9, 2017, 10am at the Corpus Christi R.C. Church,11 South Sunset Road, Willingboro, NJ. Relatives and friends please meet directly at church. Interment : Beverly National Cemetery, Beverly, NJ. In Lieu of Flowers : Memorial Donations are requested to : The 3rd Order Secular Franciscans, Resurrection Parish, Church of the Holy Name, 260 Conrow Road, Delran,NJ,08075 in her memory.