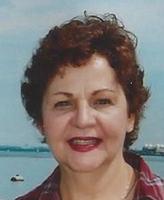 Thelma Drexler
Thelma Drexler
October 25, 2017
Thelma Drexler of Willingboro, NJ, died Monday, October 23, 2017, at Lourdes Hospital, Willingboro ,NJ. She was 83.
She was born and raised in Bronx, New York. She was formerly employed as a secretary at the Fort Dix Military Base, Fort Dix, NJ. She enjoyed reading and old movies.
She is survived by her Beloved Husband of Sixty Three Years : Benjamin Drexler, Two Sons : Andrew and Steven Drexler, and friends.
Interment will be held Thursday, October 26,2017 at 11:30am at the Crescent Memorial Park, Pennsauken,NJ.