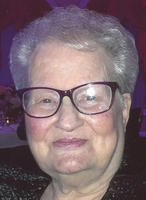 Carolyn J. Trump
Carolyn J. Trump
October 11, 2017
Carolyn J. Trump of Edgewater Park, NJ died Tuesday, October 10, 2017, at home. She was 86.
She was born and raised in Mesic, North Carolina. A member of the Church of the Nazarene ,Burlington, NJ. She loved spending time with her family, praising Jesus as her Savior, singing in the church choir and playing guitar for her children.
Beloved Wife of the late : Theodore "Ted" Trump, Sr. She is survived by her children: Dana (Barbara) Trump, Ted (Kathy) Trump Jr.,Mickey (Linda) Trump, Bill (Margie) Trump, David (Diane) Trump, Barbara (Tray) Marino, and Robert Trump, 12 Grandchildren,13 Great Grandchildren and one on the way, other relatives and friends.
Funeral Services will be held , Monday, October 16, 2017, 10am at the Church of the Nazarene, 704 Sunset Road, Burlington,NJ. Relatives and friends may call Sunday Afternoon, October 15,2017, 2pm – 4pm at the Goes – Scolieri Funeral Home,212 Levitt Pkwy, Willingboro, NJ. Please meet Monday directly at church for services. Interment : Lakeview Memorial Park, Cinnaminson, NJ. In lieu of flowers : memorial donations are requested to the Church of the Nazarene in her memory.