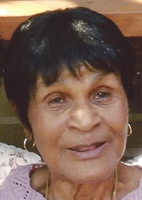 Geraldine Allen Mayo
Geraldine Allen Mayo
October 5, 2017
Geraldine Allen Mayo of Lawrenceville ,NJ, died Wednesday, October 4, 2017, at Compassionate Care, Hamilton Twp,NJ. She was 88.
Born and raised in St .Louis, Missouri. She enjoyed playing bridge, reading, crocheting, movies and traveling.
Beloved Daughter of the Late : William and Virtie Allen. Mother of the Late : William H. "Butch" Mayo.
She is survived by : Three Daughters and Three Sons-in-law : Joane and Martin Pappaterra, Leslie and Matthew Walker, Jacqueline Mayo and John Ondusko, Seven Grandchildren: Nicole, Sasha, Michael, Michele, Matthew, Melissa and Eric, Sister : Lillian Cain, and a host of friends.
Funeral Services will be held Tuesday, October 10,2017 , 10am, at the St.Paul United Methodist Church, 201 Levitt Pkwy,Willingboro,NJ.
Relatives and friends may call Tuesday Morning 9am – 10am at the church. Interment : Odd Fellows Cemetery, Burlington,NJ.
In lieu of Flowers : memorial donations are requested to the : Compassionate Care Hospice, Robert Wood Johnson Hospital, 1 Hamilton Health Place, 3rd floor South, Hamilton,NJ,08690 in her memory.